Viera Florida – Growth and preparing our youth for the unforeseen future: that is a challenging and increasingly necessary step in today's world.
Early childhood education is a vital part of development for each child, as 90% of brain development happens before Kindergarten. This initial time spent in growth, learning, being nurtured, and building relationships are the building blocks that transition children later into successful, imaginative, trusting, and loving adults.
It is natural that parents and guardians seek a caring environment where their child will thrive academically, socially, and emotionally. And that is why it is exciting to know there is a place in line with these philosophies coming to the Viera area, starting in the 2020/21 school year, called Amazing Explorers Academy (AEA).
HOLISTIC APPROACH
You will immediately notice the differences in their approach from the minute you enter the modern, well-lit facility, to their certified teachers, to the security cameras you can access throughout the day. There is a certain type of security and care that is palpable and noticeable, the type of care we all want for our young ones who will be our future leaders.
At Amazing Explorers Academy, today's children are being educated for tomorrow's world – and they will be equipped for a future that hasn't even yet been imagined. This is accomplished through the implementation of a proprietary STEAM curriculum that focuses on science, technology, engineering, the art, and mathematics.
This includes hands-on-learning in the Academy's one-of-a-kind STEAM experience room, which allows children to learn the basics of computer coding, video animation and robotics. Students also get to explore creativity through art, music and educational play throughout the rest of their day.
PROJECT-BASED LEARNING
Amazing Explorers also offers project-based learning, which encourages little minds to collaborate on topics that interest them. This allows them to fail, learn, and eventually grow into confident, enthusiastic scholars. The school also has age-specific playgrounds, which allow the children to move their bodies at least two times a day; alongside digital motion activities.
To ensure students are thriving emotionally, the Academy employs a full-time early childhood specialist to help train teachers, and to make sure all children are happy and healthy. To further this emotional growth, AEA includes social-emotional learning that supports children with emotional awareness and identification, while providing validation and exploration of feelings to not only encourage better regulation and impulse management skills, but also to teach about diversity, kindness, mindfulness, and even yoga.
AEA has partnered with Nemours Children's Hospital to create menus that provide specialized, healthy and nutritious snacks and meals throughout the day. The vision has come to existence through the innovation of Marcello Spinelli, who helped create the concept in 2014 with his partner and has been an advocate of early education ever since.
COMMITMENT TO STUDENTS AND STAFF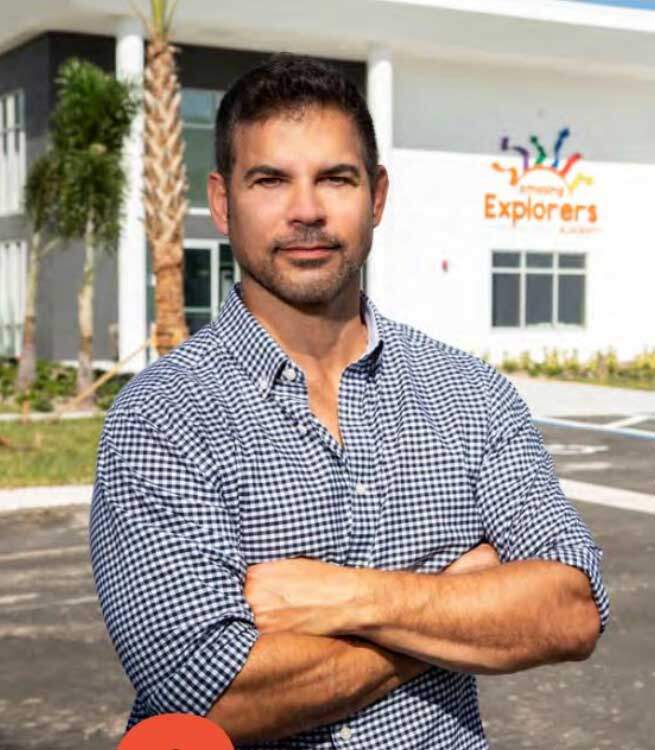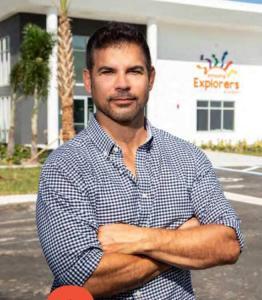 Marcello, a former wall street executive, left the high pressure financial world to make a lasting impact on the growing and changing world. "I knew I needed to do something different, something that would help change the world for better, which starts with kids," he said. The vision led him to research the education system from the bottom up, and to the realization that the learning process begins years before a student ever steps foot into a traditional classroom.
"At Amazing Explorers Academy Viera Florida, we want to encourage children to build knowledge and to learn through creativity, exploration and proven methods of engagement", says Marcello.
And he is investing just as sincerely in the educators and staff as the students. "Happy employees are happy educators. If we treat our staff and employees well, train them, offer them opportunity for growth and advancement, that will translate to how the children we serve are treated and educated," he said. This commitment will also spill over into the community. "We align with charitable programs that serve children in need where we have our schools and seek to be a community partner." Marcello said.
FLEXIBILITY FOR A CHANGING WORLD
Marcello and AEA are taking steps to address the community about change and adaptability based on what is happening in the world. For example, concerns about opening during a pandemic are addressed with integrity and transparency. Marcello assures that the school will adhere to all CDC and state requirements, including implementing sanitizing methods using special cleaning products that are safe for young children, as well as temperature scans for kids, and staff and staff testing for Covid-19 as frequently as twice monthly.
Marcello said he is looking forward to inaugurating the first Amazing Explorers Academy on the Space Coast (Viera Florida), and excited about the growth and connectivity that the children of tomorrow will have with the wealth of technology experience and innovation that we currently have here today. •