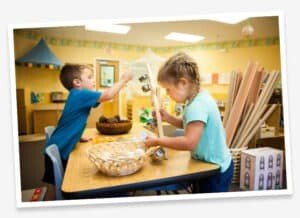 The state of Florida believes that its children are its future.
Every boy and girl in the state who is  four or five years old is entitled to free Voluntary Pre-Kindergarten (VPK) at the school or child care facility of their choice.
Lake Nona Day Care — Investing in Our Future
The purpose of VPK is to give every child in Florida the learning skills they need to succeed in school for the rest of their academic career.
The foundational skills children learn in VPK will help them continue to learn better as they make their way through grade school, high school and college. By providing a solid foundation for learning, children also are more likely to be successful in their adult careers.
Lake Nona Day Care — Giving Parents More Choices
Parents aren't limited to enrolling their child in the VPK program at their local public school. Instead, they can take advantage of this free benefit at a school of their choosing.
Since VPK is free to all Florida families, it makes sense to use it at the best possible educational facility they can. For families living in Waterford Lakes, that means Amazing Explorers.
Lake Nona Day Care — STEAM-Based Learning
Amazing Explorers participates in Florida's free VPK program. When you enroll your child at Amazing Explorers, you not only get the benefit of foundational learning that will help them succeed throughout their educational career and into their adult life. You also allow your child to get early exposure to Amazing Explorers' STEAM curriculum, which focuses on science, technology, engineering, the arts, and mathematics.
Double the benefits your child receives from Florida's free VPK program by enrolling them in Amazing Explorers innovative STEAM-based curriculum. Now, that's a win/win!